The Best Drone Backpacks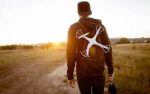 Drones are now carried around by many. Unlike smartphones that are easily kept in our pocket, drones need better storage. As the popularity of the device is on the rise, so is the demand for special on-the-go drone containers. Although ordinary backpacks seem to accommodate the size of a drone, the less risky way to take along your drone is by using bags specifically made for the sophisticated products.
There have been quite a lot of companies striving to meet the market demand in the field, but some are, of course, more notable than the others. Below is the list of the ones known to be the favourite.
Things To Consider When Buying Drone Backpacks

The important things to look out for are build quality, of course, size and configuration, so that everything fits, and carrying methods, because not all straps are made equal. You might also consider a certain amount of water resistance, even if you have a waterproof drone, I doubt the controller and all of your best drone accessories are also safe to get wet.
Our Picks for the Best Drone Backpacks


The bag is suitable for the owners of a small portable drone, which has been a hot new trend recently. Built to endure any situations on the move, the bag features internal cushioning that ensures the safety of your sophisticated electronics and easy-to-access padded compartment design. In addition, despite its medium size, there is enough space for some additional gadgets and a rain cover to protect all the important gadgets from water.
This protective backpack costs around $60, which makes it such a good buy.
---

With such strong build, your drone will be perfectly safe inside even if the bag is sat on by an adult. The compartment and storage system cater to all DJI Phantom models and others of similar sizes. Other features include back pockets for a laptop or tablet, detachable holders, padded interiors and thick, soft shoulder pads to minimize pressure. Made of nylon water resistant materials, the bag also protects your stuff from getting wet.
---

Are you looking for a combination of a case and a backpack? Look no further. Lowepro DroneGuard has got firm exterior backpack with costumizable compartments inside. It comes in many types and sizes. The BP 400 has a  section for maximum 15 inch laptop and 10 inch tablet compartment, CS types, on the other hand, boast internal organization flexiblility while fitting the various drone sizes, from Bebop 2 to DJI Phantom. With less than $100 budget, finding a specific sized Lowepro carrier for your drone is not impossible.
---

Should you be looking for a backpack for a Phantom drone, there is a wide range of products made by SSE for the type. Each type has its own gear protection system. The systems vary from a foam case slip cover to aluminium and foam inlay hard cases. In spite of the protective pads, the bags provide enough space for your gadget essentials, like the batteries, cables, a laptop or tab. The additional feature that usually comes in handy is the rain cover.
---

If you look for something stronger than a firm shell, choose Case Club. The whole thing is 100% hard case and it is wheeled, which makes it a strong contender for rough situations among other drone carrying cases.
Apart from the tough looks, the internal features are quite impressive, as well: reliefs specifically designed to prevent drone propellers from being accidentally bent, moisture remover silica gel, tablet area, pockets with removable dividers, remote cutout and small memory card slots.
With all the features and such strong build, $180 does not feel so hefty anymore.
---

Pelican provides the ultimate protection for your drones and other electronic gears. As sturdy as the military luggage, Pelican has been trusted by many. Its big, generic model, the 1650, allows its users to customize the internal layout and adjust it according to their needs. With roomy compartments inside and tough strong case on the outside, Pelican is one of the dominant brands in the market and it is definitely worth the $200 price tag.
---

Drones have been proven to be much needed in many areas. No wonder, a lot of drone operators are actually professionals who get pay for operating their drones and recording what they see through the lenses of their drones. For professionals like them, GPC is, in fact, their best bet.
Inspired by the military luggage shell, the external protection case is of military standard and covered with waterproof closed cell foam. The brand has also claimed resist dust, corrosion, fungus, UV and solvents. The interior has been well thought of, as well. With enough space for additional batteries, chargers, cables, controller(s), GPC accommodates all the drone related gears for mobile professionals.
What makes GPC an even better deal is the lifetime replacement guarantee. Such a long term investment for $100, isn't it?
---
Final Notes

Truth is, there are many, many viable bags, backpacks and cases to safely transport and store your drone. More than drone safety, a good bag provides convenience, keeping your accessories contained and organized, if nothing else. I will say just one thing, please take your time choosing the right bag.