The Best Laptop Bags For Women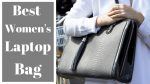 With the current female invasion at work, laptop bags for women have gained a quite significant market share. The manufacturers and designers offer a wide range of laptop bags for career women to choose from: tote, messenger, backpack, handbag, briefcase, etc. Among the countless products, here are the ones that have been notably known in the top of the list.
Things To Consider When Buying Laptop Bag

Cost: Some laptop bags are outrageously expensive. But keep in mind — more expensive doesn't always mean better.
Durability: Durable fabric is a must. Your laptop is something you use everyday, and the bag is there to protect your computer. You want to ensure the fabric is both lightweight and durable.
Size: 17 inch laptop case is the most common size but you can both smaller and bigger computer bags. It is recommended to measure your laptop bag for the right fit.
Waterproof: Waterproof lining is critical to ensure your laptop stays safe in all weather conditions. You don't want to end up with a wet laptop.
Our Picks for the Best Laptop Bags For Women

Another hot laptop bag is the saffiano bag from Kate Spade. It is equipped with a laptop case that can accommodate 13" laptop, slide pockets, a top handle and shoulder strap. The bag is one good company for a trendy, practical professional.
---

Tote bag from Miss Fong is another popular option to carry around a laptop and ladies' everyday items while still looking trendy. The tote bag features a spacious main compartment that includes an padded laptop sleeve protect your notebook or iPad, tablet from scratches.
The material is high quality and lightweight waterproof NYLON.
---
What is so special about this brand is the omega closure system, which means that the zipper is less likely to get tangled. In addition to that is the add-a-bag system. It allows us to stack and carry two or three Tumi bags effortlessly at once.
The innovative brand offers several kinds of laptop bags; backpacks and tote bags being the most common. They are equipped with a padded laptop pocket and a water resistant bottle pocket.
Some are designed for both men and women (unisex). The price ranges from $200 to $700.
---

Women who want to buy a laptop bag as a long term investment should take a look at the laptop bags from Jack Georges. Although the price range varies between $200 and $400, the products come with a lifetime warranty. The functionality of the bag is also undeniable. It comes with zippered dividers, organizer pockets, loops for pens, and a three way zipper on top.
Jack Georges target market is professional business people.
---

This Italian brand offers a laptop brief for women at around $200. The useful features of the bag are the padded laptop compartment, interior organizers, zippered compartments inside the bag for important documents, easily accessible pockets at the front.
Siamod target markets are traveling professionals and luxury leisure travelers.
---

The briefcase from this company has the much needed features: a padded laptop compartment and exterior zippered pockets. The price is at around $250.
---

With less than $100, a laptop tote from Ice Red can be purchased. Despite the affordable price, the bag does come with many features, such as slide pockets, an open back pocket, padded laptop sleeve, organizer panel, double handles and an adjustable shoulder strap. Madeof PVC and vinyl, the exterior looks shiny and chic.
Ice Red design and price should appeal to women that like multi functional laptop bags.
---

Popular for its bold statement in colors and unique patterns displayed on the bag exterior, the brand has attracted many to confidently show their true colors.
This laptop bag has a flap front design with pretty contrast prints on the inside and plenty of room to carry your laptop, files and folders, cables and power adapter, and personal necessities for a day trip or the commute to work or school. There is a padded laptop compartment, a center zip dividing compartment, and a roomy open compartment with a back wall zipper pocket for small items.
---

The brand produces bags made of good quality leather. Going along with the classy element of the materials, the look is all about elegance. Whichever kind of laptop bags you pick, be it a tote bag or a handbag, you will still get that classy impression.
Claire Chase laptop luggage range for women includes classic leather handbags, totes, backpacks, and briefcases.
---

With emphasis on functionality, the brand creates the combination of a briefcase and purse. It also provides enough space for a 17" laptop. Made of nylon, the bag does not require any special maintenance and comes with around $100 price tag.
Final Notes

All in all, the laptop bags for women mostly combine fashion and functionality. While some have got more practical features than others, others have been embellished with more sophisticated fashion styles. Well, the final call is in your hands.