3
Best Dry Bags 2018 – Reviews & Buyer's Guide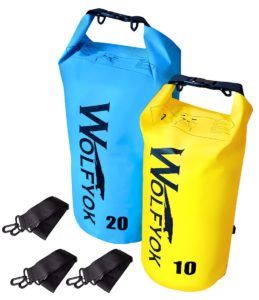 Do you absolutely love spending your free time hiking through the woods or kayaking? If so, you'll understand that you're going to run across a wide array of weather conditions. You'll experience torrential rainfalls and you'll brave through ungodly high temperature. Nevertheless, you'll enjoy yourself all the while. However, your precious items might not. This is why you should consider investing in a dry bags. With a dry bags backpack, you'll be able to keep your items safe through all potential weather scenarios. Within this guide, you will learn more about dry bags or dry sacks as we also call this product.
What Are Dry Bags?
First and foremost, you should better familiarize yourself with the compression dry bags. As the name suggests, this is a unique type of bags that is specifically designed to keep your items dry. These bags are manufactured by a unique material that gives them the ability to resist rain. When you experience rain and water, the water will reflect off of the surface, so it doesn't seep inside and get your precious items wet.
What should you look for before investing your money in either of the bags?
The Material of the Bag
Dry bags are made of two materials that are vinyl or nylon.
Vinyl: this material is mostly used to make the small dry bags used to store personal items. It is durable and water resistant. It protects your valuable and personal belongings from any water damage. Best for casual, dry bag users
Nylon: gives the bag excellent durability and a shiny effect. It is coated with silicon which makes it waterproof and makes the bag abrasion resistant. Perfect for people taking longer trips and those who continuously use the dry bag.
Type of Closure
How much waterproof the dry bag can be is determined by how the bag closes. Some bags offer both fully taped seams and partially taped seams. Both closures have their individual benefits. The fully taped seams provide extra protection from water infiltration. They protect the bag even when they fully emerge.
The closure types available are:
Hypalon Roll Top: this mechanism keeps the water out because it has a roll top and a snap buckle that makes the perfect sealing device. It has a carrying handle that makes the bag easily portable even when it is inflated. You can use it to tie bags together or to your boat or kayak
Zipper Seal: the zipper lock is so much easy to use. The zipper seal can also keep water out and offer protection for all your valuables and personal belongings.
Who Needs Dry Sacks?
So, who needs to purchase a dry sack? The truth of the matter is that these products are enormously beneficial and they're suitable for a wide range of people. Hikers will definitely benefit from a dry sack. Hiker will definitely experience rain and they'll likely want to set up camp and some point and remain outside overnight. A dry sack can help keep their belongings safe. Kayakers and swimmers are another group of people that can benefit from a dry sack. Anyone that is going to be outside for a lengthy period of time should consider investing in one of these bags.We need to note that this kind of bags isn't for long travel,if you need for your short or long trip,you should visit our luggage section and find bag which suits your needs.
The 5 Best Dry Bags for Swimming
Going out for a swim is a good way to enjoy yourself and pass time, but you may wonder where to keep your valuables as you enjoy yourself in the water. It is never a good idea to leave your valuables with people you do not know since the risk of loss or theft is high, but at the same time, you do not want to end up with broken electronic equipment or soggy items because water got into your bag. For this reason, you may have to use dry bags for swimming to protect your items.
After extensive testing of different bags, we would recommend five bags. It is usually difficult to find a bag that can serve you well, and the chances of you getting a poor quality bag that leaks water quickly or cannot withstand the elements are very high. If you are thinking of going on a kayaking, hiking, swimming or snorkeling trip and you are looking for a bag that can sort your needs; you should look for certain qualities in a waterproof bag before you go on your next trip.
This bag has been widely available and trusted because of the wide range of products that they have developed. Dry bags for swimming are their specialty, and they have different sizes – 10L, 20L, 30L, 40L and 55L – as well as colors. Pricing of the bags depends on the sizes that you want to purchase because they are for different users having specific needs. While the 10L starter bag is enough for beginners as it can contain necessary small items, it may not be enough for people who are on the go for extended periods.
One thing you can be sure of is that these bags will last for years as their build withstands even the most rugged conditions. It is made of thick plastic aided equally by good seams. You can count on it to keep your essentials dry and safe from water damage. It also comes in various colors that make it easy to find even in the dark.
Ease of use: the item is both very portable and brightly colored. There is also the roll-down seal, which protects your valuables as you carry the bag. This makes it popular among customers since they can concentrate on having fun while not worrying about their valuables.
Convenient strap: this bag comes with adjustable shoulder straps that can extend from 24 to 42 inches. The larger bags offer extra padded shoulder and sternum straps for greater comfort and stability. It also floats in water – so there is no chance of you losing the bag even if you misplace it.
What we like
✅ The large storage capacity caters to different needs while making it easy to carry your valuables around
✅ The bag is durable and can withstand adverse conditions
✅ The material of the bag is airtight and waterproof, which makes the bag float on water easily
What we do not like
There are complaints about the phone case – it is not as waterproof as the bag itself
Submerging the bag in water for long periods leads it to start leaking water and makes your items soggy
Verdict
This bag is one of the must-haves if you are considering taking a trip in nature. The bag comes with a 1-year warranty, even though the bag is extremely durable.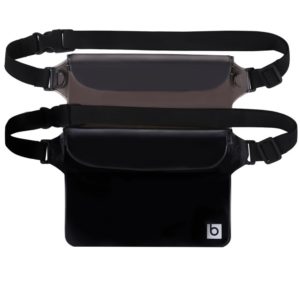 This waterproof pouch set leaves you covered in whatever conditions it is in, and is a highly recommended product.
The material is extremely durable. Having a lifespan of 140 years, the smooth, flexible polymer makes up the bag's material. This material also protects the bag from adverse conditions, and makes sure your belongings are safe. The bag comes with a stylish, extra set of pouches that can fit mobile devices and that you can wear in various positions.
The pouches that come with the bag are translucent and touchscreen-friendly. The straps are fully adjustable and can fit comfortably as a waist pack, cross-body bag or shoulder bag, while making you look stylish as you carry them. To add to this, the company covers you with a 100% lifetime guarantee when you purchase the bag.
What we like
✅ The capacity of the bag is large, so it can store many of your personal items
✅ Easily adjustable and soft straps
✅ The three zips prevent water and sand from entering the bag
✅ 100% lifetime warranty – this gives you extra confidence to purchase the bag
What we did not like
The Velcro can be irritating when you need to open it multiple times
The brown bag is slightly transparent
Verdict
The bag does what it says. If you love travelling and swimming, and need a waterproof space to keep your items, be sure to purchase this dry bag.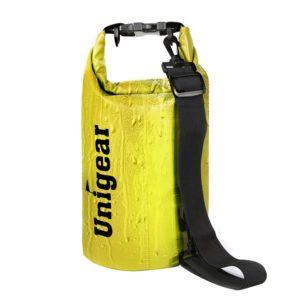 Crafted from polyurethane-coated nylon, this dry swimming bag features a welded seam construction to make it durable and water resistant. The universal case that can fit even 6-inch phones, gives your mobile phone extra protection while in water, and the plastic is touch screen friendly, enabling you to do touch screen functions without interference.
The interesting thing about this bag is that one of the shoulder strips is detachable, and you can also wear over the shoulder or across the chest for maximum comfort, and its roll down top gives it extra resistance to the elements. The bag is light and comes in different sizes, so you are sure that it has you covered on your needs.
What we like
✅ Keeps items dry
✅ Available in beautiful colors and can fit multiple items
What we did not like
The bag does not seal very well – you cannot completely close it and for it to keep dry items there needs to be a layer of air.
Verdict
If you are looking for a bag to keep your items dry, then this bag is very good for that purpose. However, do not submerge it for long periods, as it does not have a very good seal – so you need to be careful with it.
s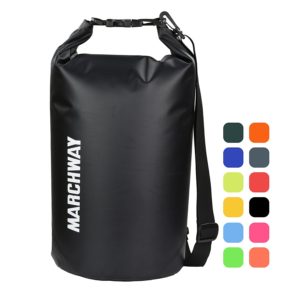 The design of this dry bag is to keep your valuables safe, in whatever outdoor activity you are carrying out. When the bag is not submerged, it is waterproof, light and durable. The bag comes in five sizes that are 5L, 10L, 30L, 40L and 55L.
The bag is made of a very high quality, thick tarpaulin built to be tough, resisting wear and tear even in the most adverse conditions. However, the fabric is also very soft even in cold seasons.
The simple roll-down seal allows secure airtight protection, while the bag itself is light and easily portable. The bag can easily float on water so your items do not get lost.
What we like
✅ Very easy to open and close, and works great for long periods
✅ High quality of construction of the bag, using a thick polymer material for water resistance
✅ The bags are available in different sizes that can suit any of your needs
What we do not like
The plastic clip is fragile and if you are not careful when using it, it can break within a short time
Verdict
As long as you are careful with handling the bag, it should serve you well for a long time. It is very convenient especially when packing smaller amounts of items, and keeps them dry as you get to enjoy your adventures.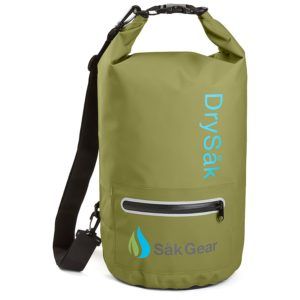 With the waterproof fabric, this bag protects your gear from nature's elements. Built from a heavy-duty 500D fabric, the bag has a vinyl coating on its outer layer to provide protection. The shoulder straps made from nylon are easily detachable to ensure easy portability and maximum comfort when carrying your items.
The bag comes in two sizes, the 10L and 20L. In addition to this, the dry swim bag even comes with a splash-proof outer pocket for access to your essential items. A word of caution, though: give your smaller items added protection before putting your items in the outer pocket, just in case they are subjected to adverse conditions.
What we like
✅ The exterior splash proof pocket – there is no other bag that has this feature
✅ The lightness of the bag and different colors
✅ Durable material and keeps items dry
What we did not like
Does not seal well, so you need to be careful when submerging it.
Final thoughts
We have a winner of this roundup of the best dry swim bags: the Blue Sky Basic bag. With its large capacity, easily adjusted straps, and thick protection layers, this bag is essential, whether you are travelling on short or long journeys. When you consider a bag, make sure you buy one that will suit your needs and serve you well over a long time, and this bag does the trick. The added 100% lifetime guarantee cover will encourage anyone who wants to purchase it to be secure in buying.
The 5 Best Dry bags for Kayaking
If you enjoy outdoor activities, you may be a fan of kayaking. However, your packed items most likely will be subject to adverse weather conditions, and they need protection. The problem is that it is usually challenging to find a dry kayaking bag that will suit your needs while protecting your stuff from the elements. With so many brands on the market, all promising you that they keep your items dry, you easily end up buying a poor quality bag and your items get soaked or your electronic items broken.
We tested different kayaking dry bags available. We found five bags that stand out to us because of their quality and durability, among other factors. However, before looking at the best bags on the scene, what are the qualities you should look for in a dry bag?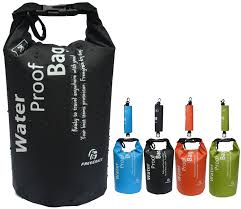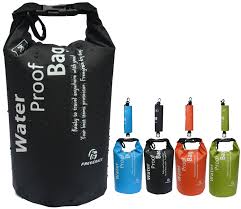 If you live an outdoor lifestyle and are into outdoor activities, you do understand that water getting into your items is a pain and can potentially ruin some of your valuables. If this sounds like you, then this bag is what you need to combat those setbacks.
Available in 2L, 5L, 10L and 30-35L, and made from 250D Tarpaulin. This makes it strong, tear-resistant and light while also having enough space to store your valued items. It also features a practical design that makes it practical, user-friendly and helpful.
The bag comes with a stylish yet useful phone case that happens to be IPX8 CERTIFIED WATERPROOF – the company adheres to the highest quality standards when making the case for your mobile item. The case is also transparent and screen-touch friendly, easily allowing you to take clear pictures and touch screen operations while your phone is within the case.
In addition, the double closure strip on the bag itself allows maximum safety. The bag is not a roll-top bag, which means it is twice safer than any dry kayaking roll-top bags available.
What we like
✅ Keeps items dry
✅ Large capacity
✅ Comes with an extra waterproof case for smaller items
What we do not like
Sometimes the zip lock does not seal the bag correctly
There have been complaints on the waterproof ability of the bag – it is more water resistant that waterproof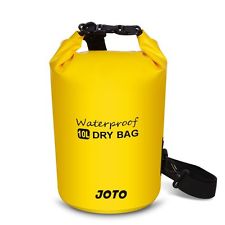 One of the newer brands to come in the scene, yet it is still one of the best purchases you can get. The bag gives your devices and belongings waterproof protection from the elements, as well as being a safe method of carrying your things. It is good for outdoor activities because it is lightweight and durable.
Made from the industrial premium material, 500D, it is not only light but also compact. It helps keep your content safe in any wet situation when the bag is not submerged.
The bag comes with an adjustable, detachable strap to maximize on comfort for you as you carry it.
What we like
✅ The adjustable straps – you can even use the long shoulder strap for backpack carrying purposes
✅ The large capacity of the bag ensures you pack as many items as you need while staying compact
✅ Made from very high grade material, so it keeps items dry
What we did not like
The larger bag sizes are normally bulkier and more cumbersome to carry than the smaller sizes
The sizes do not vary much, so there is not much difference between purchasing the larger or smaller bag.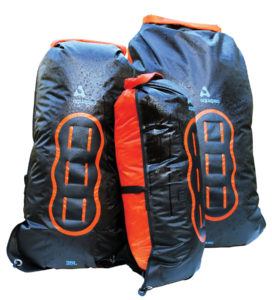 Noatak bags have been present on the scene for quite a long time, and are highly rated because of their versatility to a vast range of activities and adventures. It makes for a very comfortable bag that is compact and light, and even recommended by the US Navy Diver Challenge.
The bag design has a partition, creating two separate sections internally. Use these sections to keep your wet items away from your dry items, with no room for moisture seepage.
The bag also comes with two shoulder straps; hence, use as a backpack, shoulder bag or grab-on, depending on your needs. Several lash tabs make it easy to lash the bag down to your kayak or canoe deck.
The bag comes with a roll-down seal that protects your items to IPX6, meaning protection against heavy sea or temporary floods. The only thing you need to do is roll it down six times to seal it completely. The warranty lasts for five years, though with the durability of this dry kayaking bag, the material can last even longer.
Aquapac also make very good phone cases, with work beginning from 1983. Through more than 30 years of testing different products, their phone case is waterproof and of the highest quality, so no need to worry about those instances of phones getting in water.
What we like
✅The internal divisions in the bag – allows you to keep both your wet and dry items.
✅ Easy folding when not in use
✅ Lightweight and easily portable
What we did not like
Once you close the bag, you cannot open it frequently, though it is a small price to pay.
If you are searching for a place to put your items as you go on outdoor adventures, look no further than this bag. It is perfect for outdoor activities because it ensures your valuable items stay protected and allow you to be worry-free.
For a waterproof seal that will withstand the elembaents, make sure to roll the top for at least three or four times, and close the buckle securely. A word of advice though: the Kopaka bags are not 100% waterproof, so do not submerge this bag in water, and your things will be fine.
The bag is unique due to the double stitched seams and the ultra-tough material, internationally recognized for its water resistance ability.
The standout feature of this bag is its bonus strap that allows you to wear the bag as a backpack. You can detach one of the straps and wear the bag over your shoulder or use the heavy-duty handle. A 100% Premium Lifetime Guarantee ensures protection by a personal commitment by the company.
What we like
✅ The lightweight and floatable ability of the bag
✅ Two straps, both detachable. Used in both cross-body and backpack carrying
✅ Folds neatly for storage when you are not using it
What we do not like
The straps are somewhat thin and they do not have shoulder pads
It is advisable to order a larger size since they are smaller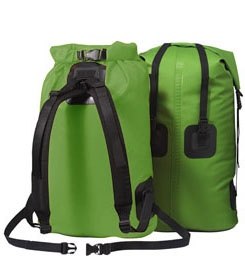 If you are a kayaking enthusiast, you do not need a heavy-duty bag. This bag is ultra-portable and multi-functional, allowing you to keep your items dry and organized. The roll-top closure gives a watertight seal. It is twice as safe compared to other closure seals on the market. However, this bag is not a floatation device, so do not submerge it in water.
The bag is definitely water-resistant but not 100% waterproof, so do not store electrical equipment in it unless you have waterproof pouches.
What we like
✅ Very good bag for its price
✅ Keeps your items clean and dry
✅ The colors are bright and easily identifiable
✅ Lightweight, keeps its shape and highly durable
What we do not like
There is only one size available – 10L
Not waterproof, just water-resistant
What to look out for
The first thing you need to think about is the duration of the bag's use. If you are heading out for a short trip, a small pouch can sort your needs out, but if you are going on a longer kayaking expedition, you will need a larger bag that can store you items. What are some other things you should check out before buying that bag?
Materials: all dry bags you will find are from two materials – nylon and vinyl. These are both waterproof and durable. The use of vinyl is mostly in smaller bags and transparent bags. Larger bags use nylon because of its durability, but nylon itself is not waterproof hence coated with silicon. The way to know a nylon bag is it is marked with a number and the letter D, showing a density rating. The higher the rating, the more long lasting the bag is.
Available Size: there are various sizes of dry bags available, either in small, mid-size and large. Choose a bag that is best for your needs and can contain your items for the duration you will travel.
The durability, seals and closures: the meaning and job of a dry bag is just that: keeping your things dry even as you have fun. Poorly constructed bags that have sub-standard material will often fail you, so you should be careful when purchasing the bags. Closures are also vital – if the bag cannot keep moisture away, it is not worth buying. The best quality bags you will get can feature more than one type of closure, which are zippers, roll-downs, Velcro or drawstrings.
Top 5 Overall Dry Bags
There are many excellent manufacturers of dry sacks. One of the most popular brand is the Sea to Summit company. This company has been in business for many years. When you purchase a Sea to Summit Even Compression dry sack, you can pretty much guarantee that you're going to get your money's worth. Osprey is another very popular manufacturer. This company offers cost-effective dry sacks that will be sure to satisfy. KastKing is another company that makes dry sacks. This company is fairly new, but they've gained a good reputation for themselves.
Backpackers and hikers are responsible for their supplies and goods. And, since the weather is so unpredictable in most remote locations, a reliable and durable dry sack is a necessity. The Sea to Summit Dry Sack is ideal for rainy, cold, damp and humid weather, as it will keep all of your supplies safe and dry throughout your trip.
Notable Specifications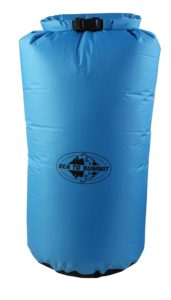 ✅ Lightweight design
✅ Great for boating, hiking and backpacking
✅ Available in multiple colors and sizes
✅ Laminate interior lining Includes a D loop
Overall Assessment
The Sea to Summit Lightweight Dry Sack is designed with the highest quality waterproof materials. The Sea to Summit brand is highly known for offering premium-grade dry sacks to consumers.
The Osprey UltraLight 3 Dry Sack is the solution to keeping all of your supplies safe and dry. The sack is constructed from 40D rip stop nylon material to ensure the items inside the back are secure and dry. The back has a rectangular design to offer more convenience when packing. The top is equipped with a durable roll top closure to help compress the items stored in the sack.
Notable Specifications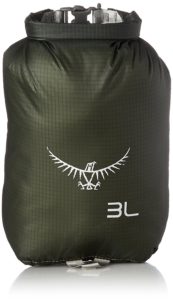 ✅ Designed from 40D rip stop nylon
✅ Rectangular design
✅Available in multiple colors
✅Durable snap closure
✅ Weighs approximately 1.04 pounds
Overall Assessment
The Osprey UltraLight's rectangular shape makes packing simple and quick. The dry sack includes everything you need to keep your perishables and clothing dry throughout your trip. Its lightweight design ensures that no additional weight will be added to your gear.
The Benkii Dry Bag Sack is not only designed to keep your perishables and attire dry during a kayaking trip, but also to spruce up your style. The sack is equipped with a handle and shoulder strap for convenient transportation. There is a small zippered pocket on the front panel of the bag that is perfect for car keys, cellphones and wallets.
Notable Specifications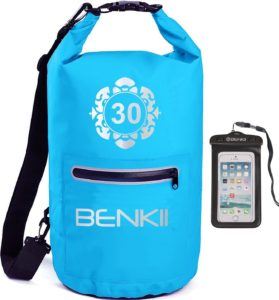 ✅ Equipped with convenient handle and shoulder strap
✅ Zippered pocket for important accessories
✅ Available in an array of colors
✅ Lightweight, waterproof design
✅ The bag floats
Overall Assessment
The Benkii Dry Bag Sack is ideal for female and male backpackers, hikers, boaters and sightseers. The bag includes everything you need to hold all of your items and keep them dry and safe throughout your trip.
The KastKing Dry Bag is the key to keeping your clothing and perishables dry throughout hiking, boating or backpacking expenditures. The dry sack is designed to keep water, dust, moisture, sand and snow out. It includes a handle and shoulder strap to add more convenience to your travels. The top of the sack rolls down to offer easier packing.
Notable Specifications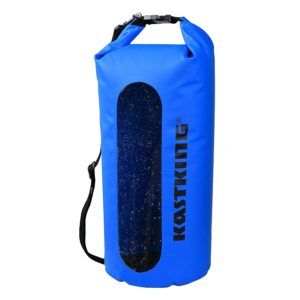 ✅ Constructed from 500D PVC material
✅ Fushion welded seams
✅ Includes a removable shoulder strap
✅ Waterproof, lightweight design
✅ Available in multiple colors
✅ Transparent, see-through panel
Overall Assessment
The KastKing Dry Sack is designed to keep your supplies dry and clean throughout your trip. The bag is embedded with a transparent see-through panel, so you can check to see if the items are dry without opening it up. The sack is available in orange, blue, yellow and black.
If you are planning a backpacking or cycling trip through rough terrain and need to ensure the safety of your supplies, you may find that the Sea to Summit eVent Compression Dry Sack is ideal for such trips. The sack is constructed from premium-grade waterproof material, with double stitching and tape sealed seams.
Notable Specifications
✅ Very cool color scheme
✅ Available in numerous sizes to suit everyone
✅ Surprisingly affordable
✅ Made by Sea to Summit
✅ Double stitched and tape sealed for added longevity and durability
✅ Allows air out, but keeps water out too
✅ Maintains its compressed size perfectly
Overall Assessment
There is no doubt that the Sea to Summit eVent Compression Dry Sack is one of the best options on the market. It offers the best of everything, including style, durability and affordability. Plus, it is available in numerous sizes. No matter what you intend to do or how many items you intend to carry along, the eVent Compression Sack will definitely suit your needs. For the price, it could very well be the best dry sack on the market.
Useful Tips after Choosing Your Preferred Dry Bag
Before you hand over your money always make sure that you do a careful inspection of the bag. If you are buying the bag online, make sure you are buying from a reputable platform or brand that has no record delivering goods that have manufacturing defects.
Opt for the dry bag that will be suitable for all weather condition and can offer the best protection from water submersion, rain, and other issues.
If you want to check whether the bag is wet, you need to turn the bag inside out then fill it with water and check if there any spots of leaks. If you want to use the water right away, turn it back to its original form. Don't fill the back with too much water to avoid putting any unnecessary pressure on the bag.
Keep the dry back away from water and only use it when you need it. All dry bags can be submerged to certain depth because they come with a submersion capacity before they can start to fail their purpose. It is therefore not advisable to keep the bags submerged at a considerable depth or for an extended period unless you are having additional protection that is boasting the bag's waterproof quality.
Conclusion
To make sure that the bag lasts longer always store it at a secure temperature or a neutral place when you are not using it. You also need to regularly clean the bag's interior with anti-bacterial wipes or sprays. Follow up the cleaning with through drying and exposure to air. Before using it, always make sure that the interior is clean and dry.
Our best choice is the Earth Pak dry bag because of it perfect for all outdoor activities and comes in a variety of colors, that is yellow, orange, blue, green, and black. The 30 and 40 liters capacity come with two padded shoulder straps. It also goes for a reasonable price for its quality.
All the above dry bags allow you to keep enjoying your outdoor activities without having to worry about your belongings. They are all the perfect solution for those who hike, camp, boat, and kayak.