Samsonite Winfield 2 Review – Stylish and Affordable
Some brand names simply reek of professionalism and class. This is undeniably true for Samsonite. This is a company that is respected all around the world. Anyone that is able to acquire a Samsonite luggage should be considered a very lucky individual. Today, many consumers will agree that the Samsonite Winfield 2 Luggage is the very best offering from the company. What sets this luggage apart from its competitors? Why is it such a great buy? These questions will be answers in the comprehensive review below.
Samsonite Winfield 2 Suitcase Color Options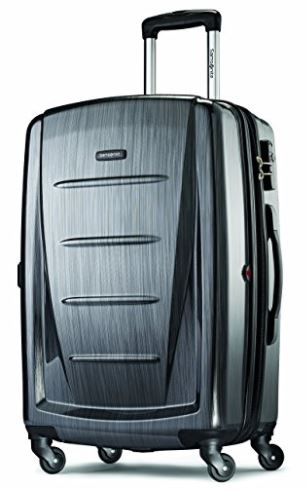 When attempting to invest in a luggage, it is a good idea to choose something that will match your style and wardrobe.When we start to write Samsonite Winfield 2 review,we notice that many suitcases are only available in a few colors. This can make it very difficult to find something that matches. The good news is that you'll experience a problem with the Winfield 2 Luggage. This product is available in a wealth of amazing colors that will be sure to catch your eye. No matter what color you prefer, you can pretty much guarantee that you'll find something that accommodates your needs. The luggage is available in charcoal, burgundy, purple, teal, orange, and so many more colors.
There is a pretty good chance that this luggage will be able to satisfy everyone.
Rolls Flawlessly
Another great thing about the Samsonite Winfield 2 Luggage is the fact that it rolls around so effortlessly. The wheels are capable of turning 360 degrees. The wheels ensure that this luggage can be rolled anywhere and everywhere without any difficulty whatsoever. The luggage will also remain upright at all times, unless you want it to be laid down. The luggage might be lightweight, but taking full advantage of the wheels is definitely the best way to transport this suitcase.
Retractable Handle
The Winfield 2 is truly designed for maximum convenience. The combination of the wheels and the handle ensures that the user will have little to no trouble moving this luggage from location to location. This luggage is equipped with a retractable handle. This makes the owner's life even easier. When stationary, the handle can be pushed downward and hidden. When you're ready to go, the handle can be pulled outward and used to drag the suitcase from location to location. You'll never have to worry about the handle getting in the way. Just push it down to get rid of it.
If you are a fan of good ergonomic handles,then you should read our review of aerolite suitcases who have durable telescopic handles.
TSA Lock
Another great thing about this luggage is the fact that it is equipped with a side-mounted TSA lock. There is no doubt that you'll want to keep your items protected from start to finish. Therefore, you're going to need a good lock. This suitcase can be locked and unlocked using a three-digit combination. When you've locked the suitcase, the zippers will be stuck in place, so it cannot be opened.
Smart technology offers anti-tampering alerts when owner wanders too far away from their luggage.
This lock is definitely very beneficial and it'll keep your items protected during your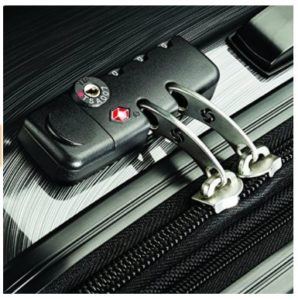 flight. If you're going to be traveling with expensive items or clothing, you'll definitely appreciate the lock on this suitcase.
Samsonite Winfield 2 is Built To Last
Before choosing a luggage, it is absolutely pertinent to make sure that you're spending your money to the best of your ability. This is why you should definitely consider investing in the Winfield 2 from Samsonite. This luggage is made from the highest quality polycarbonate. If you know anything about this material, you know that it is capable of lasting a lifetime. On top of that, this material will also maintain its beauty for many, many years to come. This combination ensures that you'll be able to use the Samsonite Winfield 2 suitcase for a long period! This suitcase will prove to be well worth the price tag in the future.
Plenty Of Space
It is pertinent to choose a luggage that will be able to hold all of your items simultaneously. Unfortunately, some suitcases are simply too small. Others might be a little too bulky and big. The Winfield 2 definitely hits the target in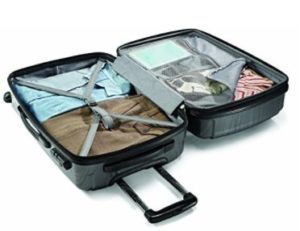 this category. This specific suitcase offers spacious storage. It is also equipped with cross-straps to ensure that your items remain in place at all times. Even if you're going to be away from town for a few days, you can guarantee that the Winfield 2 will be able to hold all of the clothing and supplies that you need.
Do Winfield 2 Have Carry Handle?
Most people will use the wheels to move this suitcase from location to location. Nevertheless, there will be times when you need to rush around. When this happens, you can guarantee that you'll never be late. This luggage is lightweight and it is also equipped with a side carry handle. This combination guarantees that the luggage can be carried in two ways. If you do not want to delay, you can always grab the suitcase's carry handle and be on your way. No matter which option you prefer, you can guarantee that you'll be able to reach your destination in a timely manner.
Pros
✅ Gorgeous suitcase is available in numerous colors
✅ Polycarbonate design ensures this luggage lasts a lifetime
✅ Very lightweight and can be carried with the convenient side handle
✅ Equipped with a top handle and four wheels
✅ Wheels roll fluidly and turn in 360 degrees
✅ Equipped with a TSA lock for added security
✅ Can hold a lot of items simultaneously
✅ Incredibly durable and will maintain its beauty for many years to come
Cons
Handle may be a little loose
Surface shows a lot of wear and tear very quickly
Overall Assessment
At the end of the day, the Winfield 2 Suitcase from Samsonite will prove to be a great investment. This suitcase is surprisingly affordable, yet it can still compete with some of the most expensive suitcases on the market. Whether you travel once every week or just a few times a year, you need a good luggage. You should most definitely consider investing in the Samsonite Winfield 2 Suitcase. It will prove to be well worth its investment in the future. It is very sleek, totally durable and much more affordable than you may believe. For the price, this luggage is definitely a homerun.