1
Best Aerolite Suitcase Review : Lightweight with Amazing Warranty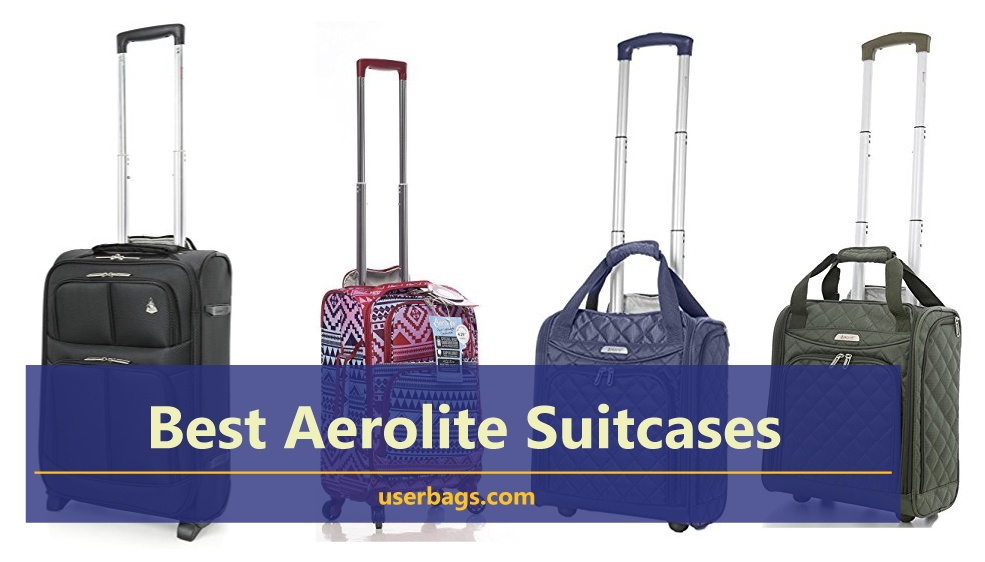 Are you currently on the hunt for an excellent suitcase for an upcoming trip? There is no denying the fact that the market is simply overloaded with tons of amazing suitcases. Nevertheless, all consumers should realize that some models are better than others. At the same time, it is vital to know that each consumer is different. While some consumers will prefer a small suitcase, others will need something oversized. The good news is that it is impossible to lose with an Aerolite suitcase. Of course, finding the right one for your individualistic needs is another story.
Aerolite Suitcase Common Warranty
So, why would anyone want to invest in an Aerolite suitcase? Well, when you read an Aerolite suitcase review, you will find that most consumers are totally satisfied. At the same time, you should know that this company offers an amazing warranty on most of their suitcases. In most cases, the company's suitcase will be covered by a 5-year guarantee. This is very generous considering the fact that most Aerolite suitcases are incredibly expensive. If you want to ensure that your money has been well spent, you should definitely invest in a luggage from this company!
Top 4: Best Aerolite Suitcases
Aerolite Carry On Under Seat Wheeled Trolley Luggage Bag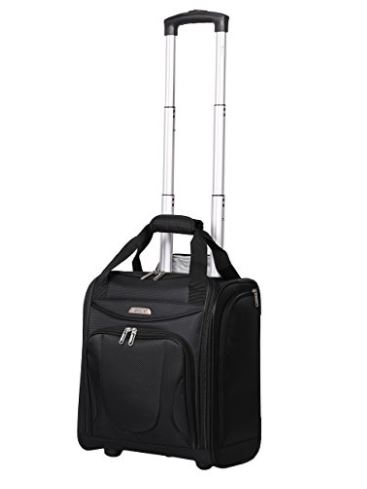 Do you have a big family vacation coming up, or are you constantly away on business? Whatever this situation is, you probably know that packing and preparing for your trip is one of the hardest parts of the whole experience. This is why the Aerolite Luggage was designed to make the whole situation so much easier. With its small design this case was specifically designed to easily fit under any seat or in any overhead compartment, so that you can take your personal belongings wherever you go at all times. However, don't let the small design fool you, because the case was expertly crafted to fit just about anything that you could ever need for your stay away from home.
Durable Double Telescopic Retractable Handle
Unfortunately, not everyone is the same height. Maybe you are a little shorter than most individuals or maybe you are a littler taller. With the Aerolite Luggage it really won't matter your height thanks to the durable telescopic retractable handle. The handle retracts in and out so that users can adjust the handle to accommodate their height. In addition to this, the handle was ergonomically designed, so you can easily and comfortably maneuver the case through a variety of terrains and situations.
Take Advantage Of The Skate Wheels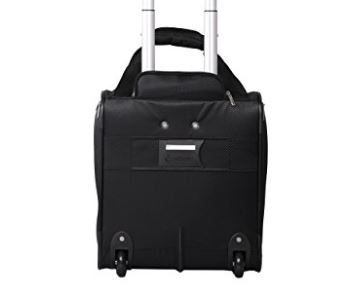 Located on the bottom of this case you will notice the 4 skate wheels right away. While these are not spinner wheels, they do make sliding the case under seats and in storage compartment so much easier. When you combine the skate wheels with the retractable handle you can easily wheel this piece of luggage right to your destination.
Pros
Skate wheels make transportation extremely easy
Designed specifically to fit under seats and in overhead compartments
Retractable handle makes the case suitable for any sized individual
Choose from several different color schemes and patterns
A variety of exterior pockets provide the perfect storage for accessories
Extremely lightweight design of 4.29 pounds
Cons
Luggage might not be big enough for longer trip
Doesn't include spinner wheels
Overall Assessment
Whether you have a family vacation coming up or you are constantly out of town on business you truly cannot go wrong with the Aerolite Carry On Luggage.
---
Aerolite Carry On MAX Lightweight Upright Travel Trolley Bags Luggage
If you always find yourself out of town on business, you already know the importance of having a good piece of luggage that can stand up to the test of time. Well, with the Aerolite Carry On Luggage you can truly rest assured that you are buying a quality piece of luggage. With the 10-year warranty any traveler can have the peace of mind that they are investing in a good quality product and company. However, this is not everything that this amazing luggage has to offer.
Includes Combination Padlock
When you travel you probably carry some of your most prized possessions in your luggage like your phone, passports, visas, and credit cards. If someone got ahold of your luggage they could easily take you for everything that you owned or steal your identity. Well, with the Aerolite Carry On Luggage you can rest assured that you won't make the process easy from the common thief. This luggage comes available with a combination padlock that will keep your belongings safe and secure at all times.
A soft bag is better for carry-on purposes. While a hard case might not fit, a soft bag probably will. Use a soft bag as a carry-on to ensure it fits in the overhead.
50% Lighter Than More Pieces Of Luggage
Always shop for lightweight luggage in the event that you have to transport it long distances.If you have every used a carry on bag before you probably know that most of them are heavy, bulky, and just get in the way rather than providing convenience. Well, thanks to the new lightweight design of the Aerolite this will not be the case. However, do not be fooled by the lightweight design, because this luggage will stand up to the test of time, while providing durability.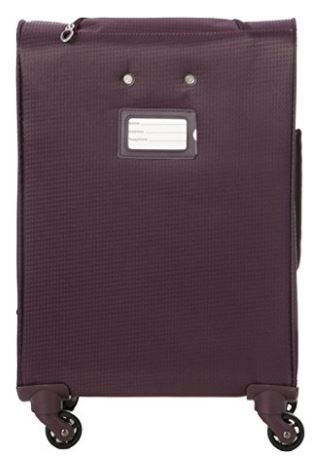 Pros
50% lighter than most traditional carry-on bags
Includes a handy combination padlock for security
Backed with amazing 10-year warranty
Retractable handle with 360-degree spinner wheels
Cons
Only available in one color
Doesn't include a water bottle pocket
Overall Assessment
If you want to invest in a piece of luggage that can provide you with a piece of mind, you need to check out the Aerolite Carry On Luggage.
---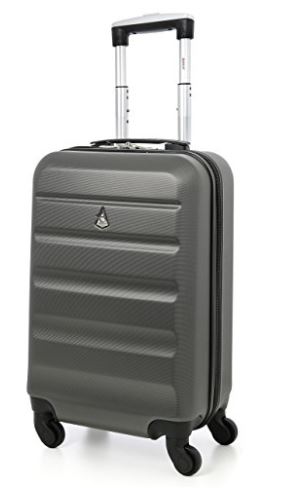 Consumers spend hundreds of dollars on luggage, just to make sure their personal belongings are safe and sound throughout their travels. While this is all good and well, it is truly not necessary because the Aerolite MAX Hardshell Luggage can offer the same benefits at a fraction of the cost. The suitcase is designed to offer affordability, convenience, portability, durability and longevity.
Lightweight Design
The Aerolite MAX only weighs 6.17 pounds, making it the perfect luggage for elderly, females and adolescence. To ensure superior portability, the suitcase is equipped with four wheels, which are capable of rotating 360 degrees. When you invest in the Aerolite brand, you know that you are going to get your money's worth.
Extended Warranty
The extended 5-year manufacturer's warranty will protect consumers from financial loss, in the event the suitcase arrives damaged and not as expected. The warranty will also cover damaged components and repair costs. If at any time the Aerolite MAX's lock, wheels or zippers become damaged, you just need to contact the company to resolve the issue.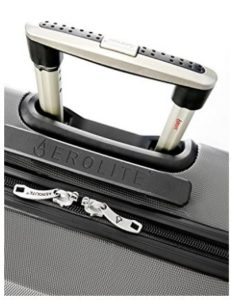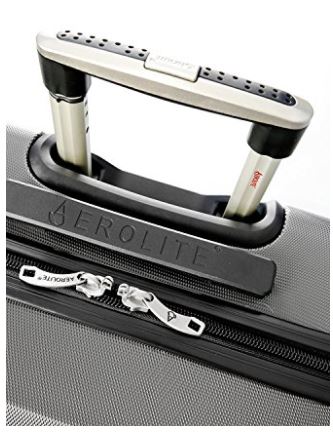 Pros
Lightweight (weighs 6.17 pounds when empty)
Four 360-degree rotating wheels
Includes a 5-year manufacturer's warranty
Extremely affordable
Constructed from durable ABS material
Meets carry on guidelines for United Airlines, Delta Airlines, American Airlines and JetBlue Airlines
Cons
Carrying handles needs to be ungraded
The durability of the lining is questionable
Overall Assessment
The Aerolite 22 X 14 X 9" MAX Hardshell Luggage is ideal for consumers traveling on a budget. The wheels work perfectly, even when making quick turns and reverse/forward adjustments. The expandable handle is very durable and works like a charm.
---
Aerolite 22x14x9 Ultra Light Carry On Luggage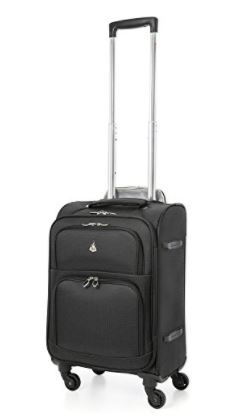 There are tons of excellent suitcases from Aerolite. Nevertheless, there is a pretty good chance that the 22x14x9" Carry On Luggage is one of the company's best offerings. It might be one of their most affordable suitcases as well. It is surprisingly lightweight and compact, yet it can still hold a lot of items. In total, it offers a maximum capacity of 38L. This means that it is capable of holding 20% more than most comparable suitcases. What else sets it apart from its competitors? You're about to find out!
Excellent 10 Year Promise
First and foremost, the consumer should know that this Aerolite luggage is protected by a 10-year promise. This is excellent and very generous when you look at the suitcase's price tag. The company understands how much work and effort they've put into their products. This is why they're brave enough to cover their products with an amazing 10-year promise. When this luggage, you can sleep soundly knowing you've spent your money to the best of your ability.
Includes A Combination Padlock
You'll definitely want to make sure that your items are protected during the duration of the trip. This is why you should buy this luggage. It comes with a combination padlock. This can be used to prevent the zippers from being opened without your permission. If you're worried that your belongings might be stolen during your journey, you'll be able to rest more comfortably with this luggage by your side. At the same time, the padlock greatly increases the overall value of this product.
Pros
Suitable for American Airlines, Delta, and Southwest Airlines Carry On
Comes with a 10-year guarantee
Surprisingly compact, but still holds a lot of items
Includes a combination padlock
Very lightweight at just 4.62 pounds
Very easy to move from spot to spot
Cons
Material isn't as protective as a hard-shell case
Might be a little too small for some
Overall Assessment
All in all, this Aerolite Luggage is pretty amazing. It is very lightweight and totally compact. Yet, it can still hold a lot of items and it can protect those items during your trip. If you want a great luggage at a good price, this is the luggage you should consider buying!
---
ABS Construction
Another thing to know is that almost every Aerolite suitcase on the market is manufactured with ABS materials. This ensures that the company's suitcases are capable of lasting a lifetime. The material is very tough and it can take a beating, without showing too much wear and tear. On top of that, the material will do an excellent job protecting your contents during the trip. Even if you bring along a laptop or another expensive item, you will be able to sleep soundly knowing that your Aerolite luggage is perfectly protecting your belongings.